Cressida SynQuest™ for WebSphere MQ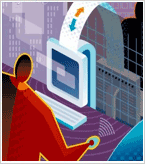 Key Features:
Cressida's SynQuest™ is designed to use the standard Crossing Exit API facility to replicate message activity.
Production Strength Multi-Platform MirrorQ Solution
Disaster Recovery & Hot Site Application
Synchronize Local and Offsite Queue Managers
User Selective Source Queue Replication
High-Performing, No User Coding needed Synchronizing API Exit Agent
Utilizes Well Trusted IBM WMQ Transportion Engine
Based on Cressida InQuest Highly Optimized API Technology
No MQ API coding skills required
Easy to use graphical front end
SynQuest is a user-configurable tool that utilizes the power and functionality of the WMQ API Exit to intercept WMQ API calls and keep the content of selected queues on one queue manager in sync with same-named queues on another queue manager anywhere in the WMQ environment.
This is achieved by intercepting all puts and gets on selected queues and replicating the messages (puts) and forwarding information of the gets to the target queue manager thus offering a supported and highly optimized multi-platform MirrorQ functionality for disaster recovery and other replication applications. SynQuest uses WMQ as the transport agent for messages and replication information.
Please click here for
Screenshots